Den berömda Pajalagröten lanserades i Pajala på 1970-talet av sjuksköterskan Vera Niemi  och återkommer då och då i tidningar MEN "har den slagit igenom överallt?
Den välkända (?) gröten sätter effektivt igång tröga magar. Men det dröjde innan Vera Niemi fick ett tack för sin skapelse. Det var när Vera Niemi arbetade som köksföreståndare på Pajala sjukhem som hon uppfann magkuren. Den gjorde att man kunde minska på magmedicinerna, men det dröjde innan det uppmärksammades av en del. https://sverigesradio.se/artikel/6606632 + https://www.svt.se/recept/pajalagrot
Men den knappast ledde till forskning (vad jag känner till vilket – och vore enkelt att genomföra ) och sedan nationell spridning! En undersökning av dagens kost på äldreboenden i Sverige vore inte helt fel – eller?
Många grötentusiaster har skrivit olika recept på hemsidor men det finns några generella ingredienser som är avgörande för att efterfrågad effekt!
Redan Hippokrates argumenterade (för diskussion om detta på t.ex. https://www.ncbi.nlm.nih.gov/pmc/articles/PMC4367209/) för att det var grundläggande viktigt för hälsan med att "sköta magen" och vi ser en revolution i dag utifrån allt mer upp märksammade "Gut-Brain Axeln". Vi minns väl också "låt föda vara din medicin och din medicin din föda"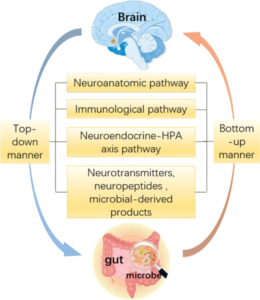 https://www.physio-pedia.com/Gut_Brain_Axis_%28GBA%29
Min egen Pajalaversion är jag hälsoberoende av, det märker jag om jag inte äter den på en tid – ingen katastrof, men väl en förändring. Då har jag ätit denna version (t.ex. med gurkmeja. Ingefära, fikon, .. och kefir) under mååånga årEnglish
English
The famous Pajala porridge was launched in Pajala in the 1970s by nurse Vera Niemi and appears from time to time in magazines BUT "has it caught on everywhere?
The well-known (?) porridge effectively triggers sluggish stomachs. But it took some time before Vera Niemi received a thank you for her creation. It was when Vera Niemi was working as a kitchen manager at Pajala nursing home that she invented the stomach cure. It made it possible to reduce the use of stomach medications, but it took a while before it was noticed by some. https://sverigesradio.se/artikel/6606632 + https://www.svt.se/recept/pajalagrot
But it hardly led to research (what do not know of – something which would be easy to do) and then national dissemination!
A study of today's diet in nursing homes in Sweden would not be entirely wrong – or would it?
Many porridge enthusiasts have written different recipes on websites, but there are some general ingredients that are crucial to the desired effect!
Already Hippocrates argued (for discussion about this on e.g. https://www.ncbi.nlm.nih.gov/pmc/articles/PMC4367209/) that it was fundamentally important for health to "take care of the stomach" and we see a revolution today based on the increasingly noticed "Gut-Brain Axis". We also remember "let food be your medicine and your medicine your food"
See image above
I'm addicted to my own Pajala version, I notice that if I don't eat it for a while – not a disaster, but a change. Then I have eaten this version (e.g. with Turmeric. Ginger, Figs, .. and Kefir) for many years
Enjoy your meal!