Kan liten tuva (Maxillaris "snuva"), inte stjälpa men väl hjälpa/väg-guida professors kliniska hypotes diagnos?
Frågeställning: Kan man förebygga att "öronbarn" dysfunktion utvecklas, något som också kan få betydelse för individen hela livet, och något som kanske inte ens (differential diagnos) beaktas inom hälso- och sjukvården?
(Nedan personligt som jag komemr att ta bort)
Jag har hela tiden misstänkt (mig själv som patient) kronisk, MRI (Magnet Resonans Imaging) dokumenterad, 3-årig vänstersidig Maxillaris hypoxi dysfunktion orsakande/bakom mycket svåra symptom/ besvär. Men när jag uppmärksammat detta inom specialistvården har jag ofta fått svar bl.a. "vanligt hos äldre, men inte utredning.
När plötsligt ordet "små" fick revolutionerade påverkan på mig, 80+ professor, och ovan misstanke vid besök hos vår excellenta tandläkare!
Hållande röntgenbild på mina Maxillaris framför mig säger han: "Du har små Maxillaris, vilket i sig är ett potentiellt problem men också ej luft bärande och problem med dränage som sammantaget kan skapa olika öron relaterade dysfunktioner. Ovan kan också förklara  post-nasal drip (slem droppar "bakvägen" ner i svalget-halsen men kan också via örontrumpeten påverka mellanörat och trumhinnan "bakvägen" . Via sinus spolning kan man dessutom analysera vad kroniska slembildningen består av"
Kanske först nu jag insåg att mina små Maxillaris, nu, men också som litet barn spelade en viktig roll i åtskilliga öroninfektioner/inflammationer. Med flera håltagningar av trumhinnor, Myringtomi, skapar ärrbildningar m.m. som skapar problem som vuxen på olika sätt.
I mitt fall nu, motiverade ovan mig att försöka reaktivera 3- åriga Maxillaris kroniska dysfunktionen med psykofysiologiska innovationer, och vips blev det full okontrollerad aktivering av post-nasal drip,  med nya besvär samtidigt som tidigare misstänkta symptom sammanhang påverkades i fel riktning! MEN, därmed klarnade sannolika samband – alltså misstänkt diagnos hypotes.
Alltså: Under 3 år ingen Maxillaris utredning trots MRI data, så nu med tydliga argument (se också länk nedan) försöker jag nu få professionellt utrett via läkare vid vår HC.
— Mer …
Maxillary sinus https://www.cancer.gov/publications/dictionaries/cancer-terms/def/maxillary-sinus?fbclid=IwAR1wr7Zl-g82keilgZdvIqkZyPvpsIPXM6R05tIXg6iOZki0p-RS-7X-S3Y : "En typ av paranasal sinus (ett ihåligt utrymme i benen runt näsan). Det finns två stora maxillära bihålor, en i var och en av maxillära benen, som ligger i kindområdet bredvid näsan. De maxillära bihålorna är fodrade med celler som gör slem för att förhindra att näsan torkar ut."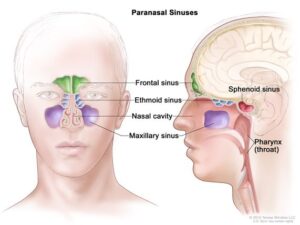 Drainage of the maxillary sinus: a comparative anatomy study in humans and goats  "Denna studie visade att mänskliga maxillära bihålor uppvisar bättre passiv dränering genom sin ostia när de lutas framåt för att efterlikna en fyrbent huvudposition. Detta kan vara ett exempel på ett evolutionärt fördröjningsfenomen och kan vara en etiologisk faktor i förekomsten av maxillär bihåleinflammation hos människor." https://pubmed.ncbi.nlm.nih.gov/21303605/
BvS-> Under första levnadsåret ställde jag mig i sängen ungefär som "efterlikna en fyrbent huvudposition". Min föräldrar trodde jag skulle skada mig och jag "bands fast" med lakan så jag inte skulle göra det MEN kanske min, då mycket litet utvecklade hjärna strävade efter denna position av "evolutionär kraft"? När jag inte kunde stå på mins knäa i sängen så rörde (vaggade?) jag på ena benet under den "Låsande" filten, något som sedan alltid skedde under ökad stress vid/under sömnen under c 40 år …
Maxillary Sinusitis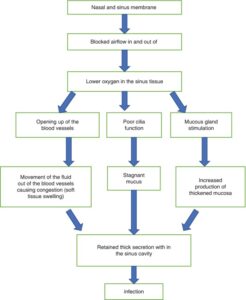 "Table 23.1 Membrane swelling leading to sinus infection
"På grund av den smala storleken på ostiumöppningen är ocklusion och relaterad patologi i maxillary sinusutrymmet mycket troliga möjligheter. Obstruktion av sinus ostium kan antingen vara primär för bihåleinflammationsprocessen eller sekundär inflammation som härrör från någon annanstans i sinus.
Med obstruktion av det naturliga ostiumet finns det minskad syresättning och gasutbyte i maxillary sinus, tillsammans med minskad mucociliary action och slemhinnor. I den vanligaste akuta formen av bihåleinflammation resulterar virala övre luftvägsinfektioner i betydande nästäppa som resulterar i maxillär sinusblockering och stasis. Anatomiska skillnader som stora mellersta turbinater, avvikande nässeptum eller concha bullosa kan öka sannolikheten för ostiumocklusion. Polyper, särskilt de som härrör från etmoiden, kan också hindra maxillär sinusöppning (tabell 23.1" https://link.springer.com/chapter/10.1007/978-981-15-1346-6_23
Fortsättning följer …